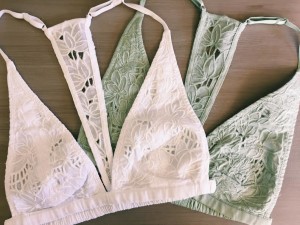 Big things are happening here at Joy All Things Underthings and we want you to be part of it! We have a new online store where you can find our latest selections of bralettes and pajamas. We'll be updating it frequently with new, fun pieces, so be sure to bookmark it on your web browser and check in every so often. Click here to explore our current online selection. Have fun shopping!
Thank you for being part of this amazing journey in helping women find their joy from the inside out!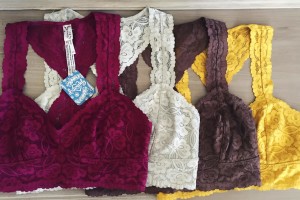 Calling all bralette lovers!!!! Joy All Things Underthings now carries Free People Intimately bralettes. We have various colors and styles perfect for summer tank tops and dresses. They are adorable, comfortable, and make great gifts. These are flying off the racks, so be sure to get your hands on one (or three) soon! Stop by our shop or click here to purchase through our new online store.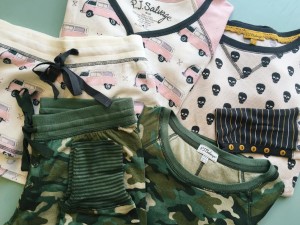 PJ Salvage is serving up amazing, quirky pajamas and you're going to want to be first in line. Our new selection of prints just arrived and we're loving them. You don't have to be outdoors to need camouflage! The camo collection is soft, fun, and perfect for summer nights. Love skulls? The Skullified line is just for you! We have natural colored thermal tanks, tops, and pants covered in mini dark brown skulls. And who doesn't want baby pink VW vans driving across their pajamas? The Adventure Awaits collection could not be any cuter. These are the perfect way to add some playful sleepwear into your wardrobe. You can shop our full PJ Salvage selection here or come by the store, we'd love to see you!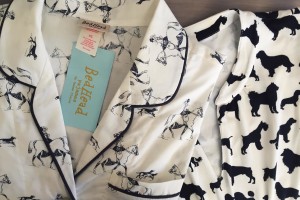 Have a love for horses? What about dogs? BedHead has the perfect treat for animal lovers. We have beautiful, soft horse jockey pajama sets and nightshirts for all of our horse fanatics out there. And for the dog lovers, a crazy comfortable best in show printed caftan (which features nearly every dog breed). Click here to get yours!
BedHead has been amazing in working with us to give our Joy shoppers one-of-a-kind caftans in a variety of prints. We like to think of these as a step up from a nightgown. They're insanely soft and cozy and available in such lovely prints, we're sure you'll find one perfect for you. You can only find these at Joy All Things Underthings, just click  here!
ABOUT US:
Bra fitting, sleepwear, lingerie, shapewear all in beautiful Manchester, Vermont.  Have a special occasion?  Bring the dress and we'll help you find the right foundation! JOY is a locally-owned lingerie shop selling all things underthings for women of all shapes, sizes, ages, and places in life.  Our mission is to help women find their joy from the inside out.
BRAS:  Basics, strapless, sports bras, nursing bras, wire, no wire, post-mastectomy.  28 band through 48 band, A cup through K cup.  We also carry "junior" bras for girls just starting out.
SLEEPWEAR:  Fine brands such as BedHead, PJ Harlowe, and PJ Salvage.
SHAPEWEAR:  Largest selection of Spanx in southern Vermont
BRIDAL AND PROM:  Strapless and slips!
HOURS:  Monday through Saturday: 11:00 am – 5:00 p.m.
(Fridays open until 6)   Sun: 11:00 a.m. – 4:00 p.m.