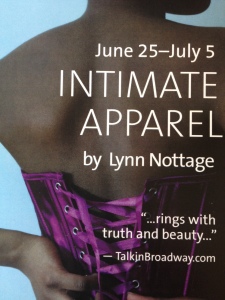 It all started back on February 2nd when I received an email from Dina Janis, the Executive Director of the Dorset Theatre Festival:
Hi Joy-
  We are doing a Pulitzer Prize winning play this summer called Intimate Apparel by Lynn Nottage. It tells the story of an African American seamstress at the turn of the century who makes corsets.
  I am not sure if you are a historian of sorts- when it comes to the history of lingerie- but we are looking to put together some Vt. Humanities programming and you came to mind.
  Perhaps you or someone you know might be an interesting speaker- or- you and your store might want to somehow collaborate around this show?
  Let me know- I can stop by anytime to talk.
  Hope you are weathering the storm!!!
Dina
My reply:  "ABSOLUTELY interested! Let's get together!"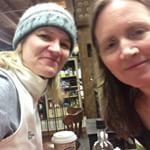 And so Dina and I began down an "Intimate Apparel" path. A business and arts partnership made such perfect sense given what we sell at JOY and the plot of the play. Opportunities to promote something lingerie-inspired outside of the bra shop don't come by every day, you know? How lucky were we? She sent me the script, we met for coffee, and the ideas on how to collaborate started rolling.
Knowing non-profit organizations, I knew that Dina's suggestion in her email to "collaborate around this show," meant that she was looking for some funding. I suspected that writing a check would get the shop some perks such as an ad in the program, a banner at the theatre, a mention here or there, etc. All of this was true, but Dina and I both knew there was a far greater opportunity with this one. This was a play about women and women's relationships with each other. It was a play about love and "rules" and hopes and fears. It was a play that told of a history in our country that we aren't taught. It was easy to dig deeper and find unique and more special ways for my business and her arts organization to collaborate, starting with the bra shop window.
The play takes place in 1905 and the set and props include a vintage sewing machine and vintage lingerie. I thought aloud that I'd love to decorate our shop window on Manchester's Main Street with gorgeous vintage lingerie to help promote the play. It took one mention on Facebook for a couple of women in the bra shop community to offer up their vintage sewing machines for the display. I accepted the first one offered sight unseen and oh my God, how gorgeous was this thing when it arrived all dusty in the back of Loree's suburban. It was a wooden console-type piece of furni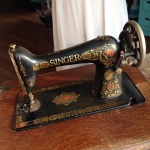 ture from which a black Singer sewing machine folded up out of the middle of the top, a classic thing of beauty and extremely heavy. I could hear myself saying, "they don't make things like this anymore…"
The machine was Loree's great-grandmothers who she had the blessing to know up until she was about 10 years old. "Agnes" immigrated to Lenox, Massachusetts with Loree's great-grandfather from Brittany (I had to google where that was – it was a region in the northwest of France). He was a gardener on an estate during the "Guilded Age," that period in time from the 1870's to right around 1900. Loree believes Agnes bought the sewing machine in America, which dates the machine to right about the same time as "Intimate Apparel" takes place.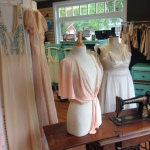 The day after we received the sewing machine, Ana walked into to the shop with a bag full of vintage Parisian negligees, and an offer to let us use them for the window display. They were her grandmother's who lived in Cuba and Ana estimated that they were from the 1940's. Her grandparents owned a sugar cane plantation and clearly had incredible taste and the ability to purchase exquisite things. Ana told me it felt good to be able to share these vintage negligees with the world.
The collaboration between JOY and DTF has brought other unique opportunities too like Dina inviting me to be on a panel at the Northshire Bookstore to talk about the history of lingerie. I was amazed at how many people showed up at 6 p.m. on a recent Saturday for it. I sat with the actors and the play's costume designer, and while corsets and petticoats were a big part of the discussion, the conversation directed to the higher themes of the play: women's relationships with other women, women's relationships with men, hopes, society rules, loves, and fears… It was incredible for me – not knowing much about "theatre" or "acting" – to sit with these captivating people who will bring this play to life.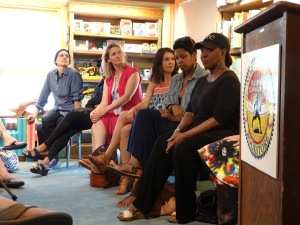 This experience of sponsorship and partnership has opened my eyes to a deeper appreciation for what the arts bring to our community. The arts are a bridge from a storyteller's perspective to our own hearts and minds – whether it be through a play, dance, music, or visual arts – drawing out feelings that we all share as humans. Lynn Nottage, the playwright for "Intimate Apparel," has given me a glimpse into a history and a narrative that I never learned about in school, but that I can relate to as a woman who has loved, lost, and has dreams. This whole experience has shown me that emotions are timeless; and that the bridge that the arts provide strengthens our understanding of one another.
I'll be there opening night surrounded by women who stand beside me every day in that bra shop and make it tick. Complimentary tickets are yet another perk of being a sponsor. I can't wait to share the experience with them and all in the audience. Grateful to Dina for reaching out back on a stormy day in February with an idea to bridge this little play and my little business. Grateful for Loree and Ana, sisters of the bra shop, for sharing their treasures with us.  Culture, history, relationships, sharing, memories, emotions, ancestry…it's all community. It's all love.
Even if you can't get to see the play or need anything from the shop, come see the window. I think we can all relate to something there whether it be sitting at that sewing machine or wearing those negligees. We'll have it up through July 4th weekend.
"I'm every woman." – Chaka Khan
Intimately,
Joy
Intimate Apparel, written by Pulitzer prizewinning playwright Lynn Nottage, runs June 26 – July 5th at the Dorset Theatre in Dorset, Vermont. Tickets are available at www.dorsettheatrefestival.org.
Joy Slusarek is the owner of JOY all thing underthings in Manchester, Vermont and is an is an avid supporter of Hills Alive, a collaborative effort of the arts organizations in southern Vermont.  She is an associate board member of the Manchester Music Festival which brings classical music performance and education to the region.