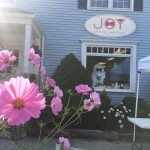 Manchester's Sidewalk Sales started today.  It's an annual tradition here where the retailers in this gorgeous town of ours pull sale racks to the outside of our stores and the shoppers have a field day with great discounts.  As a shopper, I get it, who doesn't love a sale?  As a retail shop owner, I have to tell you that I didn't get it at all for my first couple of years in business.  We're entering our fourth go-round with this sidewalk sale stuff today.  After four years, I'm beginning to see how sidewalk sales has a very important place in the bra shop's life.  I might even venture to say I'm looking forward to it this year.
In our first year in business, sidewalk sales took place just six weeks after we opened.  I thought it was nuts to sell items at a deep discount, and as a new retailer, it probably was.  Customers came looking for deals.  We were new and we didn't have any.  We made some friends and sold some things anyway, even though they were full price.
The next year, we dipped our toe into the sidewalk sale pool just a little bit.  We put some sale racks outside and low and behold people came.  We weren't that organized, but we saw a sales increase for that weekend over the year prior. I started to see the opportunity that comes with higher volumes of shoppers coming out to, well…shop.  Women bought combinations of sale items and full-priced items.  We made more friends.  I was warming up to this sidewalk sale thing.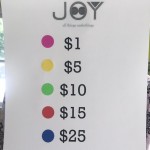 Last year, and now really fully going into today, we are much more prepared and focused on the opportunity that comes with sidewalk sales. We're way more organized this year than ever before.  We have colored stickers on everything so it's easy to know the price. Staff-wise it's all hands on deck and we have a bra fitter stationed in the tent to help you find a size and style that might work on the sale rack.  Bras and underwear under the tent are perfectly great; they just may be discontinued by the vendor, a color from two seasons ago that we sold through most of except for a few sizes, or ones that we just have decided not to carry anymore because we can't carry everything.  And the sleepwear – well, there are some seriously great deals out there under the tent.  There are a couple of robes out there that retailed for $100 that we have for $25 and a few sizes left of 100% crisp cotton summer pjs at 50% off.  We are making room for fall…and holiday…(can you believe it?)  Let's get this summer stuff outta here!
As a retail business owner with a few years under my belt now, I'm seeing sidewalk sales in a whole new light.  You might say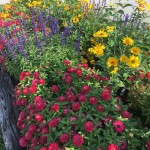 I've come full circle and done a complete 360.  It's a great combination of making new friends, finding great deals, and building a successful and sustainable retail business.  Check out the sales, check out what's new, let us tell you about what is coming, and definitely take a second to check out our shop garden.  Holy moly, what a great year for the flowers, veggies, and herbs!
Thank you for shopping at JOY all times of the year, especially for our sale out on the sidewalk.  Hope to see you!
Joy
The 2017 Sidewalk Sales run from Thursday, August 10-13th in Manchester, Vermont.  The bra shop is just one of many, many, many retailers offering fabulous merchandise at great deals.  Joy is currently trying to find an hour to hit the sidewalk at Eileen Fisher, Northshire Bookstore, Manchester Footwear, and the Mountain Goat!