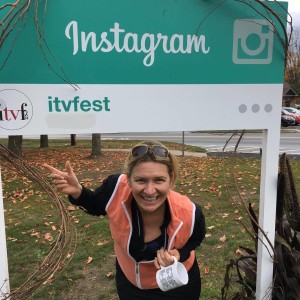 The first thing you should know is that we are glad you are here!  Manchester is a unique and beautiful town.  Here's my guide and some tips!
It's a small town…
We all pretty much know each other – especially in the business community.  If someone says, "Go to Bob's or go up to Amy's," they mean to go to Bob's Diner (classic Silk City style) or The Perfect Wife (Restaurant and Tavern).  Waitresses and bartenders and various restaurants probably have worked together somewhere in the past and those of us in retail will have the scoop on where to send you for exactly what you might be shopping for.  Ask us!  Visitor's Center doubles as the ITV Box Office right in the center of town.  It will be manned all weekend ready for YOU. 
Shopping…
Maybe I'm a little partial to the whole shopping thing since I do own the local underthings store (bras! undies!  sleepwear!), but we have so many great stores here in town – we are kind of a retail mecca in the northeast.  We mix it up with national brand outlets and locally-owned shops like mine.  Must go to the Northshire Bookstore, arguably best bookstore in the country.  We have not one, but two great health food stores in town:  New Morning Natural Foods and Nature's Market.  Zippy Chicks is a cool consignment store and between the Mountain Goat, Eddie Bauer, and Heinel's, you should be able to "Vermont" yourself up by Sunday.  Need some comfy shoes?  Try Family Footwear (across from the Hampton Inn) or the Clark's outlet (down by the Ben and Jerry's) In a pinch for something to wear to the gala?  Try the Armani, Kate Spade and Brooks Brothers outlets to get hooked up!  Can't fit it in your suitcase?  We'll all ship what you buy!
Extra-curricular…
You're here for the peak foliage, you lucky ducks.  Take lots of pictures – your timing is perfect. Hopefully we'll have a clear night or two while you are here too.  The nighttime sky is amazing – look up!  Suggestion to take a hike for a meeting or two – sure, coffee meetings are great, but you're here in Vermont for crying out loud.  (Equinox Pond loop…not too hard AND peaceful!)  There are shuttles running to Dorset every hour on the hour during the day – it's just 6 miles away, but you will be transported to quintessential charming and quaint picturesque VT.  Just named most beautiful town in Vermont!
Food and drink…
The restaurants at the Taconic, Equinox, Barrows House, and Dorset Inn are stellar – go, or better yet get room service if you can. (natch)  Locals love Firefly (burger and brew) and Cilantro (quick Mex) and the Sushi Boat (say hi to Ralph – he's the best).  Our Farmer's Market is Thursday afternoon up across from Gringo Jack's.  Meet some of our local farmers and then head to the patio for a margarita.  Depot 62 is a special place that combines pizza, middle eastern, and furnishings – I'm not kidding.  Romantic?  Chantecleer or Silver Fork.  Season's and the Perfect Wife will have something for everyone, and heck, we even have a thai place (Thai Basil).  
Wine and coffee…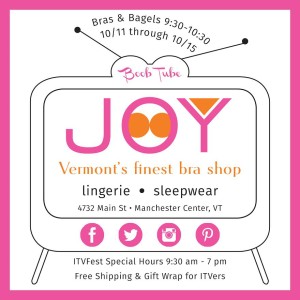 W and C gets its own category in my book.

 Yes, we have a Starbucks.  Spiral Press and Bagel Works will also hook you up nicely.  Wine shops – interesting characters run Wines by George and Comollo Antiques and Fine Wine, and Manchester Discount Beverage will have anything and everything you want in the booze department.  
Morning time…
Any fellow early-birds out there?  Bras and Bagels at the shop (JOY all things underthings) from 9:30-10:30 throughout ITVFest!  
Joy Proft is the owner of JOY all things underthings in Manchester Center, Vermont.  The shop does bra fitting, carries Spanx, and has all sorts of underthings.  Home of Hanky Panky, Natori, Commando, Chantelle, and Wacoal among others, JOY just started carrying Saxx boxer briefs – something for the boys!