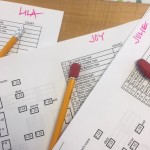 It's January so that means it's time for us to do another inventory here at the shop.  It will take us a full day to count and scan all of the items and then a day more to download and match up what the computer says we have to what our physical counts and scans say we have.  It's a laborious process.  Anyone who has worked retail will tell you that.  It's an activity that really brings us together. All hands on deck to get it done.  It's also a great showcase of the unique talents of the JOY Team.
Take Lila for instance.  She has the title "JOY's Director of Details" for a reason.  When a project like doing inventory comes along, Lila thinks through all the details like breaking the store up into manageable sections, creating checklists, and getting the damn scanners to work.  On the actual scanning day, she sits in command central downloading and troubleshooting any technical difficulties.  If you recall my blog Taking Inventory from last January, you'll remember that she also helps reconcile the whole "mess" – I mean, all of the "information" – with our other geek, I mean detail-loving employee – Connie.  I said it in that blog and I'll say it again…what they do with this stuff might as well be rocket science to me.  The two of them together love this really fun (I mean geeky) stuff.  Thank goodness they are on the JOY Team.
Julie, our Manager/Buyer, makes sure we are all on schedule and on point with preparations and the actual inventory itself.  Covering bases like making sure we pick very slow days to close the store for the inventory, making sure there's a sign on the door saying we are closed, making sure I've communicated that we will be closed (hence this blog, for example!), Julie also counts and scans like a banshee and keeps us all moving and motivated with funny commentary.  This year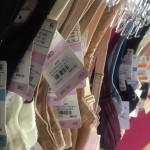 she showed off her pre-counting skills by counting five units at a time.  Impressive!
As for me, I do whatever Julie and Lila tell me to do when it comes to inventory, which may or may not involve getting snacks.  This year they gave me the really important task of turning all the price tags of the bras on the bra wall so that they are facing out.  This "fun!" tasks makes it easier to scan.  Have you ever flipped the price tags of  1,059 bras?  I have.  …And then counted all of them and then scanned all of them to make sure the numbers match?  That's what I'll be doing today!
When we open back up in two days having counted and scanned and matched all of this inventory, we'll have some new items on the floor including new thongs and boyshorts from Hanky Panky and a replenishments from SAXX and Wacoal among others.  Doing inventory is a once-a-year necessary task and it brings it's own brand of camaraderie and joy, but what we love best is having the doors wide open and helping you find your joy from the inside out.  See you in a couple of days!  We'll be in touch when the scanners let us up for air.
Cheers to being in the retail business!  Read last year's inventory blog "Taking Inventory" HERE.
Joy
JOY all things underthings is a full-service lingerie shop that does bra fitting and also carries shapewear, panties, lingerie, and sleepwear.  They will be closed on Tuesday, January 16, 2018 and Wednesday, January 17, 2018 for inventory.  All that work here will be happy to see you again on the 18th.