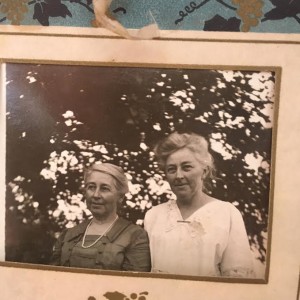 "Minnie was a Hulett," Susanne began back in 2012 when she and I sat down to tea in the very dining room that I am sitting in now as I try to begin putting this story into words. Susanne told me she had to tell someone the story of Minnie Griswold. I'm forever grateful that she chose me and believe that she envisioned a destiny. At that meeting, she gave me some of Minnie's paintings and filled me in on the captivating story of Minnie Griswold and this "home place." I'm going to try to piece together the history in words. Perhaps the written history will complement the photographs that she hand-colored and her husband Neil took in the 80's.
I'm getting ahead of myself. I need to start at the beginning as Susanne did. May God bless her soul.
Minnie was born here in Pawlet in 1874. In 1891, Minnie M. Hulett married Charles Franklin Griswold. Far as I can tell, Charles was from Rutland and the two made a home there and started a family. Daughter Ruth was born in 1896, and son Paul came along in 1898. Two years later on February 11, 1900, Minnie was pregnant with her third child when she got the news that her husband was killed in a factory accident – Susanne believed it was in a paper mill.
Halsey Charles Franklin Griswold ("Charlie") was born later on that August. I love the thought of being born in a year like 1900. Makes for even math when you're trying to remember how old you are. As you can surmise, Charlie never knew his father. I can't imagine being Minnie and having your husband die when you are pregnant with your third child. She was 26.
Two years after that, in 1902, Ruth – Minnie's first-born and only daughter – died of an illness, as children did back in those days. If you're doing the math, that would put Ruth at about age 6 or 7. Susanne told me that Ruth's viewing was in the room that I call the parlor.
This is probably enough for the first chapter. It's a long story.
Joy Proft and her husband Matt now own Minnie Griswold's former home in Pawlet, Vermont. The story of Minnie Griswold and the "home place" as her sons called it is a treasure of Pawlet history.  After Minnie Griswold passed away in 1952, her sons locked up their mother's house and left all her belongings in place, unaltered. Thirty years later, Pawlet documentarians Susanne and Neil Rappaport entered the home at the invitation of one of the brothers, Charlie, and produced a stunning collection of hand-colored photographs of Minnie's environment.
"Up Home: Hand-Colored Photographs by Susanne and Neil Rappaport" is now on display at the Vermont Folklife Museum in Middlebury. "Up Home" features over 40 hand-colored photographs – along with analysis of the Rappaport's documentary and artistic process. Open through March 31, 2018, there will be a reception at the museum on February 1 from 5-7PM.  For more details, click here.
That's Minnie on the right in the photograph.  It is from a 1924 Happy New Years card found here at the house many years after her death.  On the left is Ellen Leach.