The second in a series of chapters about the life of Minnie Griswold. 
Lauren and I were supposed to drive up to Middlebury together yesterday for the Vermont Folklife Center opening reception of "Up Home," the photo exhibition of the works of Neil and Susanne Rappaport that were taken in the home I now own.  This very long story of Minnie Griswold and this house and how I came to be sitting here today is very much because of Lauren. It was Lauren who brought this house into our circle of friendship by suggesting that Jennifer call Minnie's grandson Halsey Griswold back in the early '90's. That's another whole story for another whole chapter.
Lauren had to cancel on the excursion yesterday and so it turned out that my husband Matt and I drove up, just the two of us. Lauren knows what this house means to not only me, but to the larger scheme of things so when she asked this morning in a text how it went last night, I couldn't think of a word more appropriate than "incredible." To try to describe what I felt last night and what I'm feeling right now about this whole story and the event last night is impossible. I sent a follow-up text to her that simply said, "Beyond anything I could have imagined."
Matt and I held hands as we walked on the sidewalk to the Vermont Folklife Center and saw the sign and the image of Minnie. The power hit me right then and there. I asked Matt to take a picture and as we turned to walk to the steps of the building, a woman turned and said, "Hi Joy." It was Eileen Travell. To sum up her role in this whole story is impossible too, but in a very loose nutshell she's the one who has connected the dots between the Griswolds, the Rappaports, these photographs, me, and well…everything. Everything about last night and this exhibit and the artistry of this whole story is pretty much because of her.
We all walked in together: me and Matt, and Eileen and her husband Andrew. Standing right there at the entrance was a man in a dark suit. I was introduced to him as the current owner of the house. He was introduced to me as a descendent of Minnie Griswold. This was a complete surprise. He was her great-grandson, Alan. My eyes welled up and I outstretched my arms. I spoke first: "I'm so happy to meet you." Then he: "I'm so happy to meet YOU." I hugged him with all my might. I did not know he existed. Nor did he know anything about me.
I stuck as close to Alan as I could as much as I could throughout the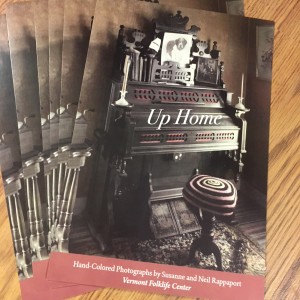 reception totally absorbed in every word he had to say. There were stories about Minnie and her life and stories about Minnie and her sons (one of which was his grandfather). Others about Minnie and her house, her faith, and all of the heirlooms from her home that he still has including the organ that is featured in the promotional material for the "Up Home" exhibit.
Alan and I would mutually sort of sense when it was time for us to let go of each other and participate in other ways in the event. I wanted to talk to him, but I wanted to see the pictures and socialize too. He wanted to talk to me, but we both knew he was the most special of guests at this particular event. We both needed to mingle and experience the event for itself. At one parting I implored again that I wanted to continue the conversation and he paused and looked at me in the eye and said, "Just stay alive, OK? Just stay alive and we will talk about everything." "OK," I agreed. I promised him I would.
The finale of the reception was an interview and Q&A with Alan moderated by Ned from the Folklife Center. Alan told stories and answered questions. He never met his great-grandmother as she died in '52 and he was born in '57, but relayed history that was handed down from his father (Halsey), his grandfather (Minnie's son, Paul), and his great-uncle (Minnie's other son, Charlie). He spoke of family reunions in the '60's here at the homestead after Minnie's death when the house was all locked up…when he and his siblings brought life back in. He recalled running around the yard and the beauty of this perfect Vermont scape. He spoke of the specialness of what was outside and especially inside the house. He's a spiritual guy. It runs in the family.
On those reunion occasions, Alan's "Uncle Charles" would bring the kids inside and immediately have them sit down next to the Victrola and play them Minnie's music. Alan said it was to calm them all down before they were allowed to walk around the house. They were asked not to touch anything and said they all respected that. The same albums were played last night at the event. One side story…Alan said the albums were kept in a specific order so that Minnie's blind mother could flip through and know which album she was going to hear. On top of everything else, Minnie's mother was blind.
I invited Alan to come back and just knock on the door whenever he wants. He lives in Pennsylvania.  He hasn't been in the house since he and his family cleaned things out before the sale in 1994 when Jennifer and her then-husband Gregg bought it from his father. Alan isn't a guy that I would call animated, but when I told him he was welcome anytime, he practically danced. He definitely waved his arms a little in the air and somewhat sang, "I get to go in the house again."
So many forces are coming at me right now. This is a destiny that's bigger than me. At the very end of the night when I just had to go back and look at the photograph entitled "Minnie's Closet" one more time, Eileen caught up with me and took some pictures of me near it. As she put the cover back on her camera lens, she said, "You're going to write this book, Joy." I agreed and told her that at the very least I was going to do that.
"There was a lot of death in that house." It was something that Alan said during the interview last night. Minnie's husband died due to an accident in a paper mill when Minnie was pregnant with Charlie in 1900. On display in the exhibit is a photograph of his obituary cut out of the newspaper. I learned from reading the gruesome details that her husband, Charles F. Griswold, actually died in this house from the injuries. Also in a photograph was her daughter Ruth, in repose, in the room that Matt and I now call the parlor. Alan provided the details on how she died at the age of 6 or 7. It was from complications from a tonsillectomy. She basically bled to death. Minnie's mother died here too. I believe that was in the '30's.  She had moved in after her son-in-law died.
Alan said Minnie had a very strong faith and called her a survivor. He told us she bartered for items she needed. She had two boys to raise. There are ledgers of swaps of a can of beans for a broom.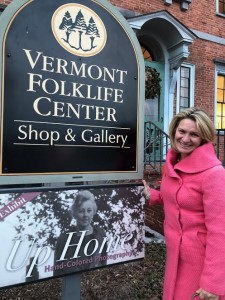 I feel like I've been put right here to touch and feel everything and to tell this story. I could go on, but this is probably enough for now.  Maybe I had it right with Lauren this morning. All of this is incredible and beyond anything I could have imagined.
It's a long story. As Alan said, all I have to do is just stay alive.
"Chapter 1 – Minnie Was A Hulett" is available by clicking HERE
Joy Proft and her husband Matt now own Minnie Griswold's former home in Pawlet, Vermont. The story of Minnie Griswold and the "home place" as her sons called it is a treasure of Pawlet history.  After Minnie Griswold passed away in 1952, her sons locked up their mother's house and left all her belongings in place, unaltered. Thirty years later, Pawlet documentarians Susanne and Neil Rappaport entered the home at the invitation of one of the brothers, Charlie, and produced a stunning collection of hand-colored photographs of Minnie's environment.
"Up Home: Hand-Colored Photographs by Susanne and Neil Rappaport" is now on display at the Vermont Folklife Museum in Middlebury. "Up Home" features over 40 hand-colored photographs – along with analysis of the Rappaport's documentary and artistic process. The exhibit is open through March 31, 2018.  
The photograph of Joy was taken on the way into the opening reception held on Thursday, February 1, 2018.  She had no idea what was in store.  That's Minnie on the sign.